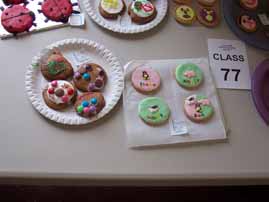 This Section is open to Non-Members of the Society.
Free entry for exhibitors to be aged up to 12 years inclusive.
73
Miniature Garden, up to 12 years old
(See note)
74
A painted rock
75
CREATURE
Made from vegetables and/or fruit
76
FOUR Decorated biscuits
Bought biscuits permitted. eg digestive, rich tea, etc (See note)
77
EDIBLE JEWELLERY
(See note)
78
Hand Writing (not illustrated)

Using this text :
Be glad your nose in on your face,
not pasted on some other place,
for if it were where it is not,
you migh dislike your nose a lot.