On the 15th June 1917 between 40 and 50 members of the "Allotments Holders" held a meeting at Clayton Council Room under the chairmanship of Councillor Harris Priestley (Chairman of the Allotments Committee). Dr Stansfield proposed and Mr Albert Andrews seconded a motion that -
"A Clayton Horticultural Society be formed".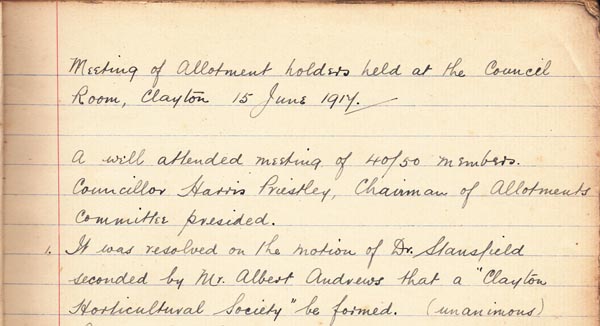 That motion was unanimously carried and thus the present Society started its long history.
After deciding on the formation of a comittee and the preparation of rules and procedures, the meeting decided to circularize the inhabitants of the village and invite membership.
The first officers of the Society were appointed -
| | | |
| --- | --- | --- |
| | President | Councillor Harris Priestley |
| | Vice President | Councillor Edwin Foulds |
| | Secretary | Mr Chas. B Hay |
| | Treasurer | Mr Albert Andrews |
Within weeks, after several committee meetings it was decided to have the first annual show of the society on Saturday 18 August 1917. There were 13 classes - all vegetables with further prizes for the best kept allotments.
The entrance fee for each class was 3d (about 1.25 new pence). The prizes in each class was 1st: 4/-, 2nd: 3/6, 3rd: 1/6 (20, 17.5 & 7.5 new pence respectively). The profits of the day were shared between "The Clayton Women's Working Party for Soldier's Comforts" and "The Clayton Military Hospital" - remember that the country was still at war.
We can trace the names of some of the trophy winners back to 1920, but the first cup (the Frank Wallis Cup) was presented on 1918, and was won in consecutive years and so retained by the champion vegetable grower, Edwin Foulds. It was replaced by the Walter Andrews Cup.
One of our members - Robert Brown - has let us have a report of an even earlier "Floral and Horticultural Society Show" reported in the Bradford Observer of 20 September 1866.
We intend to continue to delve into our history and add features about the past to this website - this is going to be our "Winter job".
What do you know? How can you help?
You might have some old family papers or photographs. You might be a member of the local Clayton History Group.
You may know something of the people who donated the trophies and cups.
Whatever you can tell us about our past, we shall be really pleased to have it and add it into this record of our society.