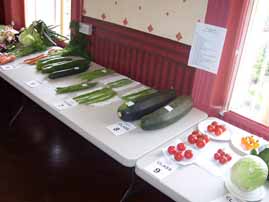 There is a fee of 25p for each entry except for young people - as set out in the entry form.
There are money prizes for the winners in every class - as listed in the regulations.
The winners in all classes receive points.
| | Points |
| --- | --- |
| 1st place | 3 |
| 2nd place | 2 |
| 3rd place | 1 |
There are Cups and Trophies given for the most points in a particular class, or for the greatest total of points over a group of classes.
All Cups and Trophies are held by the winner for one year, until the next show.
Some Cups and Trophies are engraved with the name of the winner.