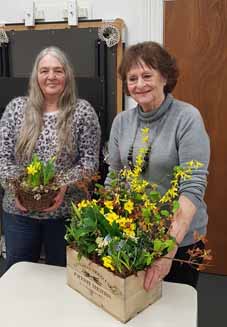 Sally Baker has sent us a 'follow up' to her excellent talk on 20 March.
Growing Flowers for Cutting
A small dedicated cutting patch will keep you in cut flowers from May-October. There are lots to choose from, here are some of my favourites, most productive and best sellers.
Annuals/biennuals:
Cosmos – purity, sea shells.
Cornflower – blue, black ball, pink.
Antirrhinum – Potomac series, Madame butterfly.
Calendula – Candyman Orange.
Limonium/Statice – sea lavender (pastel shades).
Sunflower – mix for cutting, smaller heads.
Scabious Atropurpurea - Fata Morgana (peach colour). Beaujolais Bonnets (pink purple mix). Scabious Stellata (Drumstick) is a novelty, with lovely seed heads.
Sweet pea – various, Navy Blue, (Spencer type, matucana for scent) Our Harry, Charlies Angels (Blue) Mollie Rilstone (pale peachy pink).
Aster – ostrich plumes, Duchess series.
Rudbeckia Hirta – Cherry Brandy, Sahara, Cherokee Sunset.
Nigella (love in a mist) Good for flowers and seed heads. Miss Jekyll, Persian Jewels.
Bulbs – Tulips (I like the Darwin Hybrids and Double late peony flowered, but there are so many gorgeous varieties) Alliums, narcissus, Gladioli, Italian ranunculus, Galilee anemones.
Dahlias (from cuttings and tubers) - So many varieties to choose from. Some favourites of mine are Jowey Winnie, Café Au Lait, Arabian Night, Karma series, Ambition, Cornel, Daisy Duke, Jomanda.
Chrysanths (from cuttings or young plants).
Herbs – various, particularly Dill (Anthemum Graveolens), Mint, Rosemary, Lavender.
Roses – David Austen – Too many varieties to choose from, I like Gertrude Jekyll, Alnwick, Princess Michael.
Hydrangeas – Good fresh or dried. (Red ones dry better than blue).
Foliages, trees and shrubs:
Eucalyptus (in season).
Birch – twigs and young leaves.
Hazel – Catkins, young leaves.
Willow – For Pussy willow, making wreaths and structures.
Websites and books:
www.flowersfromthefarm.org.uk – National organisation promoting cut flower growers.
Floret Farm's Cut Flower Garden – Erin Benzakien.
The Flower Farmer's Year – Georgie Newbery